What is WholyFit?

WholyFit instructors teach people to memorize Scripture through exercise.
That's why we call WholyFit, "Devotional Exercise". It's like a Bible study in motion for a workout that's good for body, mind and spirit.
WholyFit is NOT yoga, rather it is a Biblical alternative to yoga so that you can stretch and exercise for health without doing yoga.
WHOLYFIT instructors are trained by experienced, knowledgeable fitness professionals using cutting edge research and design so that classes are safe for the general population.WHOLYFIT training includes anatomy, Kinesiology, exercise design and group leadership as well as discipleship and inspiration to follow Christ and make Him pre-eminent in all things.
Powerful Exercise
Practice the BASICS of the WholyFit system, and you will gradually gain strength, flexibility, balance and ease of movement that will make the daily movements of life a breeze!
Weight loss
Muscle tone
Energy
Counteracts Depression
Strength & Flexibility
Cardiovascular System Efficiency
Muscular Balance
Posture
Coordination
Neurological Processing
Equilibrium
Sleep Better
Scripture Memorization
I lift up my hands to your commands, which I love, and I meditate on your decrees. Ps 119:48
Bible Study in Motion
Most of us find it difficult to establish a consistent habit of exercise and bible reading, but with WholyFit it's easy. WholyFit Devotional Exercise teaches powerful physical exercises integrated with prayer, relaxed reflection and scripture memorization. It's an exercise program as well as a bible study for fitness with a heavenly touch.
Each movement of the warm up is paired with "Scripture Scripts" for a mind-body experience like none other.
Worship
Present your bodies a living sacrifice, holy and acceptable to God, which is your spiritual service of worship. Romans 12:1
Worship is offering up all of our lives to the Lord– in the midst of doing the dishes, exercising and even all the menial tasks of everyday life. Jesus is our Friend who sticks closer than a brother. He cares about all the little details of life. When we offer even our daily chores to Him, He brings a joy and excitement to all we do- because we do it for Him. Labor becomes a joy. Serving others becomes our adoration of the Savior. Exercise becomes worship dance, an expression of our love to Him. We cry out to Him through the movements of our bodies, rejoice in Him, affirm our trust in Him.
Worship through song is very similar to WholyFit. We make affirmative declarations of God's goodness and love.We thank Him for the salvation He has made possible to us through Jesus. Just as in worship through song, it's impossible to be depressed, so it is with worshiping through exercise. We lay down all of our troubles and focus on the incredible worth and trustworthiness of God our Savior as we lift our hearts to Him through movement. Worship is a life wholly surrendered to Jesus.
Prayer
I will praise you as long as I live, and in your name I will lift up my hands. Ps 63:4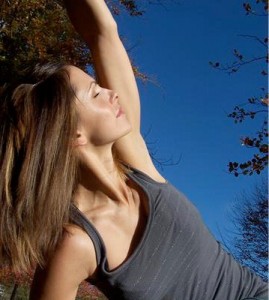 During WholyFit breathing, we often think of accepting grace from God, like the ability to forgive, goodness, kindness, gentleness. When we breathe out we surrender our inmost being to Him: letting go of malice, selfish ambition, unforgiveness, hardness of heart.
The Lord knows our hearts. Words sometimes even get in the way of communication with the Almighty. Praying in the Spirit can anything that communicates with God from our spirits to the One who is Spirit. Even when we groan, our prayer is accepted.
Movement can also be praying in the Spirit – it is simply praying without words. When we ask the Holy Spirit to help us to pray, He is faithful, whether we use words, or dance or even sigh. We offer our hearts to Him and movement often helps us to express what our words cannot.